Keili Bartlett

Local Journalism Initiative

It's been decades since nearly 50 bunkers were created across Canada during the Cold War. Designed to keep government personnel safe in the event of a nuclear attack, the bunker in Nelson was used – until now.
Touchstones Nelson officially opened its newest exhibit, in the bunker itself, on Oct. 17. Private tours were previously offered, but the space has undergone a transformation since it was built in 1964.
"It's not what people expect," archivist and Collections Manager Jean-Philippe Stienne said after the grand opening. "You think of a bunker, it might be dark, cold, very claustrophobic. It's actually quite a large space, really. There were plans to have up to 70 people staying there."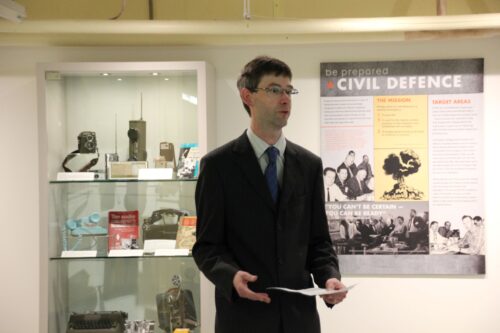 There are a few theories why Nelson was chosen as a site for one of the so-called Diefenbunkers, named after the prime minister of the time.
"One is that there needed to be one around the Kootenay area, Nelson being a … centre near the West Kootenays," Archivist and collections manager Jean-Philippe Stienne said. "The fact there was a fairly new federal post office building as a site for a bunker in Nelson. That was certainly a reason."
Another theory, he added, was that Prime Minister John Diefenbaker was fond of fishing in the Kootenays and a bunker was added in case he was in the area during a nuclear strike.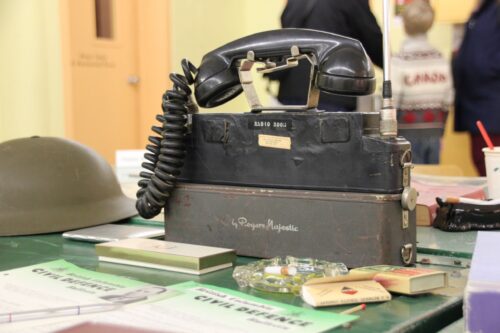 "I hope we understand that this was a period of great fear across Canada. Even more recent, we know the Cold War only ended around 1989, 1990. This is in living memory, so a lot of people can actually remember the Cold War, the fears they had and the fears they continue to have. Because nuclear weapons haven't gone away. They are still very much with us today," Stienne said.
"It reminds people there are dangers that occur throughout history and continue to occur," he added.
Underground and through a series of passageways near the museum, visitors will first see the decontamination showers. Then, the space opens to a large, well-lit room. A window into the communications office gives a glimpse of where workers would be attempting to establish a connection to the outside world. Two dormitories were designated for men, and one dorm for women. A kitchen features some original artefacts, and mobile feeding units still bear the address of local Walter Wait.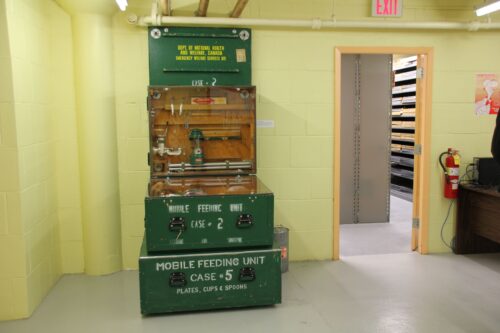 Rations would tide them over for two weeks, the time determined for radioactivity from an attack to subside. In that time, the chosen few were supposed to maintain connection with the outside world and determine how to rebuild.
They would have to leave their families to their fate. Families and children were not allowed inside. The bunker was a secret, so secret that the museum staff have yet to find a list of exactly who was supposed to enter it.
Now, all are welcome inside. After the opening ceremonies, tours were fully booked. Perhaps those visiting will be able to relate to the would-be occupants of the bunker, having recently experienced a period of isolation in the COVID-19 pandemic.
"Isolation is a feature of all bunkers, I think," Stienne said. "Obviously, we've experienced that this year. It's funny how the past sort of comes back to us sometimes."